Image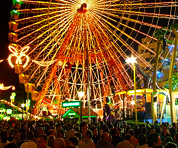 Our B&B Hotel is located close to the fairgrounds in Albacete, just 5 minutes away. The Fair of Albacete is considered to be of international interest for tourists. Every year it is celebrated from 7 to 17 September, a tradition which commenced in 1710. It is the most important festival of the city in honor of their patron the Virgin of the Llanos.
It is a ten-day celebration in which the whole city is concentrated in the singular Fairgrounds, where, regardless of the time of the day, you can always enjoy the Fair of Albacete. We suggest you attend the traditional opening that commences with a procession moving through the city's streets. It is tradition to carry the image of the Virgin of the Llanos to the fairgrounds. Once there, the opening ceremony starts characterized by fireworks and dances. Yet, certainly the most important is the grand opening of the front door, the famous Iron Door. It serves as a sign of inauguration of the famous Fair de Albacete.
You can make plans for any time of the day. Start with a morning trip to the promenade of the Fair, which is full of bazaars and attractions suitable for both adults and children. Enjoy those delicious treats and try a typical (morcilla) sausage sandwiches and "guarreta" accompanied by the best tapas in Mancha. In the afternoon it is time for a coffee with a sweet "Miguelito" – one of the finest pastries typical in the province. The rest of the time you can devote yourself to dancing in the tents that offer both day- and nighttime attractions. Just choose one to your liking!
Enjoy the Fair of Albacete, one of the best fairs of Spain, staying in our hotel in Albacete!