Circuit racing in Albacete
Image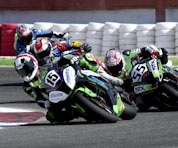 Our Hotel Sidorme is located just 3.5 km from the Speed ​​Circuit of Albacete, you can arrive by the road of Ayora (CM-332). The speed circuit of Albacete is well known as "La Torrecica", is a favorite among motorists and one of the most popular in Spain because of its location between Madrid and Valencia. Its layout is simple and without unevenness, it is not only intended for motorcycle / motorcycle professionals but is ideal for all those who want to start in the world of circuits.
For lovers of speed, this circuit can be rented at a reduced price and with a special insurance that covers an almost guaranteed full in all the courses and courses. In addition, the circuit allows you to leave the bikes in the pits the night before the batch or course because there is always a guard who watches the entrance at night.
Every year, the Albacete speed circuit receives regional, national, European and world championships and is filled with fans of the world of motor and speed of motorcycles, cars, formulas and trucks. You will have the opportunity to attend important motorcycle championships during your stay in our Hotel in Albacete.
Numerous complementary activities have been held in the speed circuit, such as concerts, training sessions, tire testing, team training, specialized tests, commercial shoots, rallies, special meetings and events.
Make the most of your stay in the city of La Mancha. The Sidorme hotel in Albacete is located close to the Circuito de Velocidad. Just 3.5 km, come and enjoy it.
Feel the speed by staying with us. Book now and know Albacete.