Barrios Históricos de Granada
Image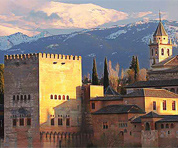 Discover the most enigmatic neighborhoods of Granada, the neighborhood of Albaicín and Sacromonte, a visit more than obligatory in the city.
The Albaicín (or Albayzín) is a neighborhood of Andalusian origin, one of the most visited neighborhoods thanks to its great historical, architectural and landscape richness. The Albaicín was declared a World Heritage Site by UNESCO in 1984 next to the Alhambra and the Generalife. Between its constructions you will be able to appreciate a mixture of an old style and Muslim with an Andalusian touch. Be part of the history of Granada, visiting the remains of the ancient Arab wall of the Albaicin. Continuing around the Darro River, you can see the Royal Chancery which was built in the 16th century by the architect Diego de Siloé and is considered to be a Property of Cultural Interest since 1977. In the Albaicín are collected many architectural values ​​and that is why Is considered one of the renaissance quarters of the city.
Visit the viewpoints of the Albaicín, San Nicolás and San Cristóbal, and enjoy fantastic views of the whole of the Alhambra and the Generalife.
Another of the most important neighborhoods of the city of Granada, is without a doubt, Sacromonte. This neighborhood is located on the hill of Valparaiso and is popularly known as the old neighborhood of the gypsies, who settled in the city after the conquest of Granada. It is one of its most picturesque neighborhoods and therefore one of the most important tourist areas of Granada. Sacromonte is home to a series of monuments that you can not miss: The Abbey of Sacromonte, located on the top of this hill, and the College of Sacromonte.
Enjoy the intricacies that this beautiful Andalusian city offers you, staying at our hotel B & B in Granada. Book with us and teleport you to the time of the historic quarters of Granada.