Image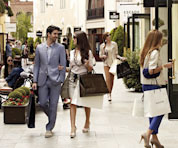 Con las playas de la Costa Brava a sus pies, la Roca Village está ubicada en un tranquilo emplazamiento, a sólo 36 kilómetros de nuestro hotel en Granollers y a un poco más de media hora de Barcelona. Podrás llegar muy cómodamente a este relajante y sofisticado paraíso de las compras.
With the beaches of the Costa Brava at its feet, the Roca Village is located in a quiet place, just 36 miles from our hotel in Granollers and a little over half an hour from Barcelona. You can easily reach this relaxing and sophisticated shopping paradise.
The Roca Village is one of the Collection of nine Chic Outlet Shopping® Villages by Value Retail. Stroll through its facilities and discover an assortment of over 900 outlet boutiques. You will encounter world's leading fashion and lifestyle brands. These leading brands offer authentic collections from previous seasons with discounts up to 60 per cent, and sometimes even greater discounts on the recommended retail price items all year round.
Enjoy an authentic shopping experience in the outlet of unparalleled luxury suitable for even the most demanding buyers. Some clothing brands that are available at the Roca Village are: Armani, Burberry, Calvin Klein, Custo, Ralph Lauren, Michael Kors, Escada, Gucci, Versace, and Tommy Hilfiger among others. You will also find jewelery and watch brands such as Swatch, Swarovski, or even suitcases by Samsonite. Become the best casual footwear brands such as Munich, Vans or Diesel.
La Roca Village offers not only luxury brands, but also outdoor sites (the villages) and a full calendar of famous events. Do not forget to have a coffee in the Starbucks paradise, either alone or accompanied by family and friends. Do not miss out on this unique opportunity.
Visit the Roca Village from our hotel in Granollers and enjoy your best shopping with Sidorme.