Image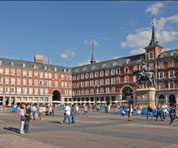 Plaza Mayor is located in the center of Madrid, a few meters away from Puerta del Sol and next to Calle Mayor. It´s the heart of "Madrid de los Austrias", the old town and one of the most charming neighborhoods in the city.
It´s located at the old and well-known "Plaza del Arrabal", which housed the most popular market in the city, and which also was the main neighborhood, known as "El Arrabal".
It´s without any doubt, one of the most emblematic corners in Madrid, and therefore, indispensable to visit if you are planning a city tour.