Image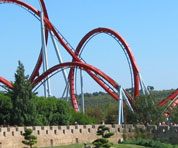 Port Aventura is a leisure complex, located in the municipalities of Tarragona and Salou in Spain. With more than 3 million visitors, it is one of the main attractions of the Costa Daurada, the most visited theme park in Spain and the sixth in Europe.
The complex, which has been extended several times since its inception, currently comprises a theme park (Port Aventura Park), a water park (Costa Caribe Aquatic Park) and a golf course (Mediterranean Beach & Golf).
The park is divided into six thematic areas based on different historical civilizations. Each zone tries to faithfully reproduce details that exist or existed in such civilizations and cultures to achieve a maximum immersion.