Image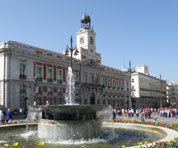 It is definitely the most famous square in Madrid.
Construction was done in several stages: first of all, the construction of Casa de Correos in the eighteenth century, which a century later took it´s definitive form. In the twentieth century gardens and a fountain were build, and the pedestrian area increased.
If you get to know it, you can´t miss three emblematic places:
-El Oso y el madroño: under Tio Pepe announcement, at the beginning of Alcala street, we can find the symbolic statue for Madrid: The Bear and the Arbutus.
-Clock of Casa de Correos: known throughout Spain as the place where the year-end bells are issued since 1962.
-Kilometer Zero: starting point where the Spanish radial roads begin. It is signposted and tourists do not leave Madrid without their photo here. Where would you begin?​