Image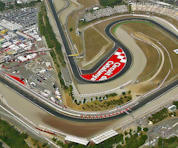 Visit the Racetrack of Catalonia, only a 10-minute drive from our hotel in Granollers. The Racetrack of Catalonia, also known as Circuito de Montmeló or de Barcelona, ​​was inaugurated in 1989. Since September 1991 it has been hosting the best international motorsport events in its facilities. The first official race held at the Racetrack of Catalonia was the Touring Car Championship of Spain, which ended with the victory for the former F1 driver Luis Perez-Sala. A year later the racetrack also held the Motorcycle World Racing Championship and the European Grand Prix Motorcycle Racing.
B&B Hotels invite you to visit the Racetrack of Catalonia located in the old country house known as the Moreneta (Black Madonna). Take delight in the huge facilities of the racetrack. You should not miss the special opportunity to see the track especially because the Racetrack of Catalonia regularly organizes a series of guided tours that will give you an excursion of its sports facilities, one of the most modern in Catalonia. Become familiar with the place where each season major motorsport events of worldwide importance take place. These are not limited to the Grand Prix of Spain F1 and MotoGP Gran Premi de Catalunya.
Enjoy being a real racer by visiting the driving school and make sure to sign up for the other activities perfect for practicing a different way of tourism.
Get acquainted with the Racetrack of Catalonia by staying at our hotel in Granollers, and enjoy the racing tourism.