Image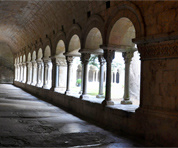 The Girona Cathedral, the most authentic place of Força Vella, is located in the Cathedral Square (Plaça de la Catedral), just 7 miles from our hotel in Gerona. It is an impressive building of the eleventh and eighteenth centuries. Its spectacular dimensions, the uniqueness of its nave, its Gothic architecture and its many styles make it a monument that you cannot miss.
The main feature of the Cathedral of Girona is its huge Gothic vault of 23 feet, known to be the widest in the world. Both the Cathedral and the Basilica have a long history and a high cultural value to offer to the visiting tourists.
From our hotel in Girona you will be able to visit the famous Cathedral; get ready to enjoy a great cultural excursion. To access the main entrance of the Cathedral of Girona you have to ascend a grand staircase from the late seventeenth century. You can see its exterior, the vast Baroque facade and the cloister, as demarcated by a terraced wall, being one of the most interesting and beautiful of Catalonia.
Inside the Cathedral of Girona you will discover works of great beauty and value, including the altarpiece made of silver with enamel and precious stones, one of the jewels of the Spanish goldsmithing. Admire the colorful capitals of the cloister, containing famous scenes from the Old and the New Testaments and the Creation tapestry, an important piece of the Romanesque upholstery and the most valuable jewel of the Treasury.
The Cathedral houses the Girona Beatus famous book or Book of Revelation, written by Beatus against Adoptionism. This copy is considered as the most important and perfect copy to have ever been written. Scattered throughout the four galleries, you can visit several early Christian sarcophagi such as Archdeacon Arnau de Soler.
Enjoy the fantastic city from our Sidorme hotel in Girona and enjoy the tourism.