Image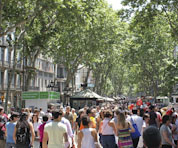 Stroll through the streets of Barcelona from our Sidorme hotel for we are only 34 kilometers from the city center where the famous Rambla is situated.
Start your Barcelona tour with the Rambla, one of the most emblematic places in Barcelona and also one of the foci where the most activities take place. It is an always-crowded pedestrian walkway through the heart of the city. Reaching the Rambla from our hotel in Granollers is very simple; go to the Port Vell, the southern end of the Rambla or towards the Plaça Catalunya, its northern end. The Rambla of Barcelona is the walkway that separates the famous Barrio del Raval from the Gothic Quarter.
Strolling along the Rambla you can identify five sections from the Plaza de Catalunya to the Mirador de Colon. First, the Rambla de Paddles is located on the top and is the most crowded and vibrant. Then follows the Rambla of Studies, which is also known as the boulevard of birds because it is the place where the old Bird Market had been situated. The Rambla of Flowers is the most colorful and fragrant with its numerous stalls of flowers and plants area also contains the famous Boqueria market. The Rambla de los Capuchinos is known as the center and the promenade where buildings of great architectural value such as the Gran Teatro Liceo, the Güell Palace and the Royal Plaza are located. The final part is the Rambla de Santa Monica, an area full of bars and restaurants where you will find the Mirador de Colon. Discover the attractions and entertainment activities offered by the Rambla; enjoy live performances and human statues or get your own portrait drawn by a street artist. There is also a range of permanent attractions like the Wax Museum, the Erotic Museum, the Christopher Columbus monument and the Modernist Boqueria Market. Have fun in Barcelona while staying with us at our hotel in Granollers.
Diviértete por Barcelona y hospédate con nosotros en nuestro hotel en Granollers, te sentirás como un ciudadano más. Te esperamos en Barcelona.